Press Release
Mediscribes Selected by Singing River Health System as Dictation/Transcription Service Vendor
Louisville, KY, June 7, 2018 (Newswire.com) – ​Singing River Health System, one of the largest employers on the Mississippi Gulf Coast, has selected Mediscribes, Inc. to serve as its dictation and medical transcription service vendor for the system.
A two-hospital EPIC EHR health system, Singing River Health is comprised of Singing River Hospital in Pascagoula and Ocean Springs Hospital in Ocean Springs as well as community medical clinics throughout the area.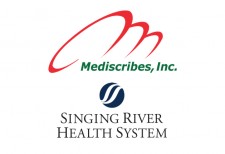 We are quite proud to add a prestigious partner like Singing River Health to our transcription customer base," said Terry Ciesla, Executive Vice President for Mediscribes. "The team at Mediscribes is super excited about our selection and we are looking forward to delivering Singing River Health with an unparallel level of service, focus, and commitment."
TERRY CIESLA, EXECUTIVE VICE PRESIDENT
About Singing River Health System:
Singing River Health System is a community-owned, not-for-profit health system and the second largest employer in Jackson County. The system strengthens the local economy having recruited over 300 of the very best physicians and other professionals to the community while providing good jobs, wages, and benefits to more than 2,000 employees and their families. The System maintains one of the largest emergency departments in the state, caring for more than 100,000 patients per year.
Singing River Health is home to award-winning Blue Distinction® Centers of Excellence in cardiac care, stroke care and spine and joint surgery. Services include:
24-hour emergency services
Heart and vascular services
Cancer care
Women's and children's services
Inpatient and outpatient rehabilitation services
State-of-the-art neuroscience centers
Behavioral health services
Wound care and a hyperbaric medicine center
Singing River Hospice of Light
About Mediscribes:
Mediscribes is a leading healthcare informatics and clinical documentation provider. Headquartered in Louisville, Kentucky, Mediscribes provides intuitive solutions that focus on positively impacting a healthcare customer's entire clinical documentation operation. With a cloud-based dictation/transcription system, automated workflow includes e-signature, interfacing, printing and faxing. Mediscribes also delivers cutting-edge CAC technology that combines Natural Language Processing (NLP), Deep Machine Learning, Semantic Web, and High-Performance Computing. The goal is to put operational data in the hands of healthcare professionals to help them proactively identify patients at risk, patterns in disease and treatment outcomes.
Media Contacts:
Mediscribes Inc.
Terry Ciesla, EVP
866.473.5655
12806 Townepark Way, Louisville, KY 40243
Source: Mediscribes, Inc. and Singing River Heath System