Press Release
Mediscribes, Inc., Has Been Chosen by the US General Services Administration (GSA) as a Contract Holder for Medical Transcription Services
Louisville, KY, June 7, 2018 (Newswire.com) – ​ Mediscribes, Inc., a leader in Speech Recognition Technology, Medical Transcription, and Health Information Management Solutions, has been chosen by the GSA (GSA Contract Number: 47QSMA18D08Q6) as a vendor of choice for medical transcription services and technology for all GSA Member hospitals.
The GSA is committed to "Delivering value and savings in real estate, acquisition, technology, and other mission-support services across the Government." Similarly, Mediscribes is committed to provide "Better Quality, Disciplined Turnaround Time and World-class Customer Support" to their customers. GSA member hospitals will experience unparalleled customer support, dedication and commitment from the Mediscribes team.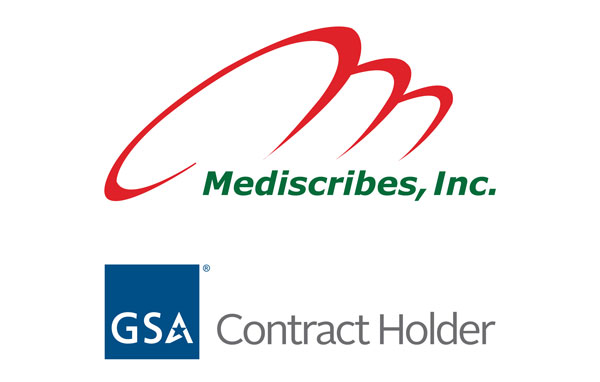 We are very excited and quite proud to be selected as a GSA Contract Holder by GSA.gov. Our transcription service has grown exponentially since 2004 as a result of our intense focus on clinical document quality and providing the industry's Best Customer Support to all of our customers, but, our success is attributed to the unwavering support of our customers. It is our customers that have ensured our growth and we owe each a sincere debt of gratitude.
TERRY CIESLA, EXECUTIVE VICE PRESIDENT
About GSA:
GSA provides centralized procurement for the federal government, offering billions of dollars worth of products, services, and facilities that federal agencies need to serve the public.
GSA's acquisition solutions supply federal purchasers with cost-effective high-quality products and services from commercial vendors. GSA helps federal agencies build and acquire office space, products and other workspace services, and oversees the preservation of historic federal properties. Its policies covering travel, property and management practices promote efficient government operations.
About Mediscribes, Inc.
Based in Louisville, Kentucky, Mediscribes, Inc. is one of the fastest growing Medical Transcription Services Providers in the United States. Mediscribes, Inc. is an ISO 9000-2001 certified company, offering cost-effective consolidated transcription solutions to major hospitals, clinics and other healthcare facilities since 2004. The firm specializes in providing highly accurate medical transcription services that strictly adhere to guidelines set by the Association for Healthcare Document Integrity (AHDI). Mediscribes also offers front-end and back-end speech recognition solutions. The Mediscribes brand promise is that – "Reports are received within the contracted turnaround time and at the contracted level of accuracy, or the report is free!"
For more information, please visit https://www.mediscribes.com
Media Contacts:
Mediscribes Inc.
Terry Ciesla, EVP
866.473.5655
12806 Townepark Way, Louisville, KY 40243
Source: Mediscribes, Inc.